Drone regulation could 'choke' industry, airport owner warns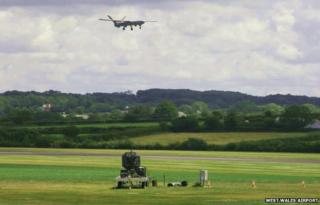 Regulations controlling drones in the UK skies could "choke" a growing industry, an airport owner has warned.
Ray Mann said the West Wales Airport at Aberporth, Ceredigion, was benefiting from growing demand for test flights of small, civilian unmanned planes.
A House of Lords committee is hearing evidence on Monday as it examines drone safety issues.
Mr Mann urged caution, calling for regulations balancing public safety with development of the industry.
Public safety
Civilian drones are currently operated by enthusiasts, TV companies, police forces and surveyors within visual line of sight.
Retailers such as Amazon have proposed using drones to deliver packages but they are not currently permitted to fly over built-up areas or out of visual range.
However, there is increasing concern that the law is being flouted by people buying drones for as little as £300.
"We've seen a lot of growth over the last few years of people wanting to operate these systems," said Mr Mann.
"There'll always be a fraternity who just want to play with these things, and we need to ensure that it's done safely.
"But everyone recognises that if you're heavy-handed with regulation you'll restrict development of the industry."
The pilots' association Balpa has called for strict regulation before large drones are allowed to appear in the UK's skies, on grounds of public safety.
Balpa says safety issues will become increasingly important, claiming remote aircraft the same size as small passenger planes could be operated commercially in the UK within 10 years.