Charity 'over the moon' after return of stolen sheep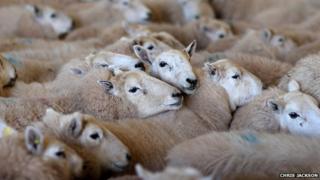 An Aberystwyth charity is "over the moon" after most of its stolen sheep were returned to it.
The Military Veterans Agricultural Project issued an appeal after 22 of its Shetland Sheep went missing from a Ceredigion farm in October.
After an Aberystwyth auctioneer alerted slaughterhouses, butchers and others, most of the sheep were returned.
Garry Dean, who runs the farm, said: "We haven't got them all back but at least we got the majority back."
He added: "He (the auctioneer) said the thieves would have been stupid to try and sell the sheep on because they were 'too hot to handle'."
The appeal also caught the attention of the Shetland Sheep Society, which offered to donate some its own sheep as replacements.
"We cannot thank people enough for their generosity and their efforts in helping to get our sheep back," Mr Dean said.
The charity helps former service men and women back into work after leaving the military.