Could Aberystwyth be Wales' first vet school?
Aberystwyth University is exploring plans to bring a vet school to Wales.
No Welsh institution offers a course accredited by the Royal College of Veterinary Surgeons and the nearest courses are in Bristol or Liverpool.
An Aberystwyth veterinary biosciences degree from 2015 will allow graduates to gain vet-related jobs, but not carry out animal surgery.
The university hopes it will "pave the way" for the possible future development of a veterinary degree.
It added it wants "to ensure that the future veterinary needs of Wales are appropriately catered for".
The new course could lead to jobs such as veterinary laboratory diagnosticians, welfare inspectors or animal care workers, but further qualifications will still be required to become a vet.
Vet Gwen Rees hopes a new veterinary school does come to Aberystwyth.
"I would have applied for a Welsh university if I could... If you're a Welsh student you just don't have the option," said Ms Rees, who left Llanelli to study in Liverpool.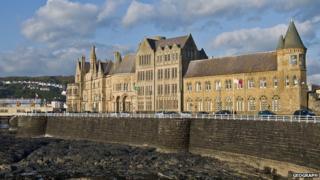 Extensive course
Ms Rees now works at Bristol University veterinary school and said she is not surprised by the lack of training in Wales: "It is a massively extensive course to run".
Aberystwyth University already has expertise in animal science and a previous application for funding to set up a veterinary school was refused in 2002.
"We can play a key role to help meet the opportunities and challenges faced by the livestock sector and food suppliers, particularly for the benefit of the rural economy of Wales," a spokesperson said.
Farmers' unions have in the past said there are not enough vets to deal with the sick farm animals in Wales.
But, with veterinary schools recently opened in Surrey and Nottingham, Ms Rees says she hopes supply will not outstrip demand.
She added: "There are at least 200 more vets being trained and so I hope there are enough jobs."
---
Veterinary School: the facts
Veterinary school courses take 5 or 6 years
Most vets in the UK treat small pets, like cats and dogs
To be a veterinary surgeon you need a degree from a veterinary school accredited by the Royal College of Veterinary Surgeons (RCVS)
The universities in the UK offering veterinary degrees approved by the RCVS are Bristol, Cambridge, Edinburgh, Glasgow, Liverpool, London and Nottingham. The University of Surrey is currently under consideration
Only a registered veterinary surgeon is allowed diagnose and treat animals
There are over 20,000 RCVS vets in total
Students should have at least two science A-levels if they want to be a vet
---