Criggion radio station: Powys Cold War base sold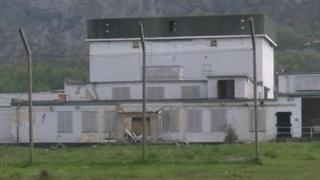 A former secret Cold War communications centre has been sold to investors in Powys.
Criggion radio station was used by the Royal Navy from 1942, and later became a vital communications hub at the height of the Cold War.
Orders to sink a German warship in 1943 came from there, and it reportedly relayed commands to sink the General Belgrano during the Falklands conflict.
The site, built in 1942, has been empty since 2001.
The identity of the new owners remains a mystery. However, those selling it, Telereal Trillium, said they were confident regeneration there would "bring life back to the area".
The sale includes four buildings and nearly 5 hectares (12 acres) of land.
A number of uses have been suggested for the site, including a museum, a day care centre, a design studio, and a storage unit - although the actual intentions remain unknown.
Built amid fears Germany could bomb Britain's main communications post at Rugby, Warwickshire, the station was key in ordering the sinking of the German battleship Scharnhorst in 1943.
But the station's busiest period was in the 1960s, at the height of tensions with Soviet Russia and the Eastern Bloc countries.
Employing up to 160 people, the communications centre played a key role in the Cuban Missile Crisis as it sent and received messages across the Atlantic to missile-launching submarines.
That conflict saw the world brought to the brink of nuclear war in a stand-off between the US and Russia after it was revealed Russian missiles had been installed in America's backyard - Cuba.
Activists and nuclear disarmament campaigners soon flocked to the site, fearing it would be one of the first targets if Russia ever launched a nuclear strike against the West.
The station continued to play an important role in Britain's communications strategy, including during the Falklands conflict.
But it was officially closed in 2001, and the centre's radio mast and towers torn down two years later.
Powys councillor Graham Brown previously suggested the site could be turned into national museum, focusing on its role during the 20th Century conflicts.
He said: "The buildings have been left to decay over the past decade but we want to turn them into a museum exhibition which could have both historical and educational value.
"The project has the potential to bring in tourists and could lead to a major economic regeneration of the area."