Toddler Edwin Davies dies in suspected high chair accident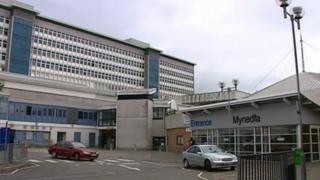 An inquest is to be held after a toddler died in a suspected accident involving his high chair.
Edwin Davies, 16 months old, was found unconscious after reportedly becoming trapped in his high chair in Aberystwyth, Ceredigion.
He was airlifted to the University Hospital Wales, Cardiff, but later died.
Edwin's death on 7 November is being investigated by Dyfed-Powys Police, but is not being treated as suspicious.
A file is being compiled for the coroner.
Edwin lived in an isolated farmhouse with parents Colin Davies, 51, a farmer, and Janice Davies, 36, a nurse.
He had two sisters, Naomi and Gina.
Aberystwyth mayor Brenda Haines said Edwin's death has "affected the whole community".
"It's just so tragic," she said.
"Everyone is behind them and supporting them, as a mother you really feel it, it's absolutely terrible."
Edwin's funeral was held at St Mair's Church, Aberystwyth, on Tuesday.
Ceredigion coroner Peter Brunton has opened and adjourned an inquest.