Two rare insects found in Powys nature reserve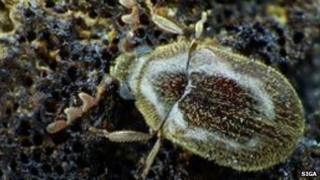 Two rare insects have been discovered in a Powys nature reserve.
Radnorshire Wildlife Trust (RWT) made the finds at the Cwm Byddog reserve near Clyro in Powys.
Insect larvae was spotted on a piece of fungus and identified as the beetle Dorcatoma substriata.
Shortly after, an unusually-shaped plant caught the eye of one of the experts and after further research, it was found to be caused by a tiny midge called Dasineura strumosa.
RWT member John Ockenden said this is the first time this midge has been recorded in Wales.