Owl stuck in chimney for two days at home in Llanymynech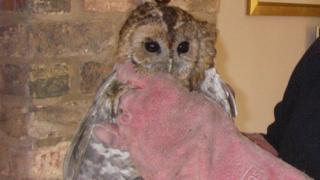 An owl had a lucky escape after getting stuck in the chimney of a log burner at a house in Powys for two days.
The tawny owl had been wedged inside the flue at the home in Arddleen near Welshpool.
An RSPCA inspector had to chip away at the cement of the fireplace to lift it away and free the bird.
After Saturday's rescue, inspector Phil Lewis said: "Although I don't think he'd had much sleep, he was fine and flew up to some nearby trees."