Lightning strike forces venue change for old New Year's Day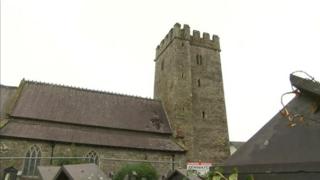 Hen Galan, the old New Year's Day celebration in Wales, is moving from its usual venue for the first time.
The event in Ceredigion will be held at Tregroes Church after lightning damage to the roof of Llandysul Church.
The celebration is held on the closest Saturday to 12 January and this year's event is being held on Saturday.
Dating back to 1752, the event used be marked with a game of cnapan/gem y bel ddu, or black ball.
Local historian Martin Griffiths says the game involved members of the Llandysul and Llanwenog parishes competing to get a black ball - believed to be a wooden ball covered in wax - to their rival's church first.
However, this was replaced with a day of scripture in 1833 after Reverend Enoch James decided the game was too violent.