Spilled feed lorry still in canal in Abermule, Powys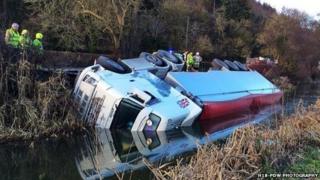 A lorry which overturned into a mid Wales canal spilling 28 tonnes of animal feed is not likely to be removed until Wednesday, police have said.
The lorry tipped over on Monday on the A483 between Newtown and Welshpool in Abermule, Powys, partially blocking it.
Dyfed-Powys Police said a specialist crane is needed to move it.
Natural Resources Wales has put booms into the water to contain the sugar beet pellet spillage and any leaking fuel.
There are no reports of closures currently on the road.
However, a police spokeswoman said it was possible the road would have to be shut temporarily when the lorry was removed.