Call for tax cut to pay for Dyfed-Powys Police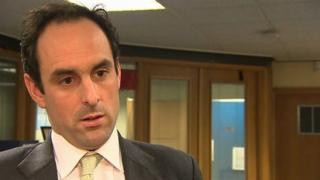 People in Dyfed-Powys could pay less for their policing in 2015/16 if plans by the area's police and crime commissioner are approved.
Christopher Salmon wants a 5% drop in the police precept element of council tax. He said the force had reserves of £43m and crime was falling so the move would reflect running costs.
The proposal would see an average band D household pay about £10 less a year.
His proposal will go before the police and crime panel on Friday for approval.
Mr Salmon added: "I want to realign the level of precept with the real cost of running Dyfed-Powys Police; a fall in the precept will help that process."
In 2015/16, Westminster government funding to the force will fall from £53m to £50.3m.
If the precept drop is approved, it would generate £43m which would be combined with reserves of £2.3m to create the overall budget of £95.6m. The 2014/15 budget was £97.9m.