Accident conclusion after four deaths in A44 tanker crash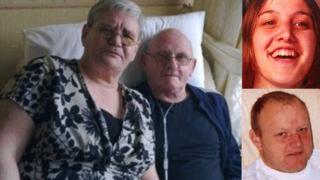 A momentary lapse of concentration has been cited as a possible explanation for a crash near Aberystwyth which killed four members of the same family.
Martyn Pugh, 47, Alison Hind, 28, Margaret Kehoe, 65 and John Kehoe, 72, died when their car hit a fuel tanker on the A44 last June.
Ms Hind's daughter, Hollie, aged two, survived the crash, which has been described as a miracle.
The coroner recorded a conclusion of accident at the inquest in Welshpool.
After the hearing, a statement on behalf of the families said: "Every journey that we undertake involves risk and this accident highlights that risk, a simple case of wrong place wrong time. Half-a-second either way and life may have carried on as normal for all of us."
They said: "It seems that we will never truly know what caused this dreadful accident that had such an effect on us and we can only slowly come to terms with our losses.
"We do however realise how lucky we are that Holly miraculously survived this trauma relatively unscathed."
The hearing was told that Mr Pugh was a cautious driver but witnesses who were on the A44 that afternoon said his Ford Focus drifted across the carriageway into the path of a fuel tanker.
According to a police collision investigator, it may have been a momentary lapse in concentration as the vehicle was being driven within the speed limit and had no mechanical problems.
Mr Pugh, his parents in law and niece were all killed almost instantaneously.