RSPCA free cat stuck between two houses near Welshpool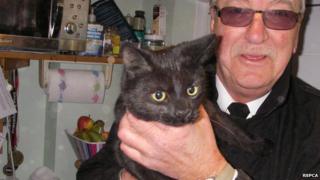 A cat had to be rescued after getting stuck in a 3in gap between two houses.
The RSPCA was called to Llanfair Caereinion near Welshpool on Thursday after the male black cat was wedged in. He was freed and returned to his owner.
The rescue brought back memories for Insp Phil Lewis as this was not the first time this gap has proved irresistible to a curious pet.
He said: "Twenty years ago I was called to the same house to rescue a dog that had become trapped in the same manner."