Teacher Stuart Rees jailed over child sex abuse images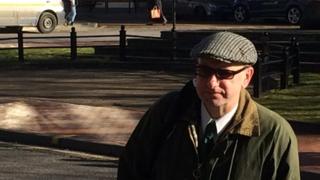 A former Powys teacher has been jailed for 16 months after pleading guilty to having thousands of child sex abuse images.
Stuart Rees, 51, of Brecon, admitted four charges of possessing indecent images of children at Merthyr Crown Court on Monday.
He admitted downloading thousands of pictures between 14 May, 2010 and 1 January 2013.
Rees worked as a geography teacher at Gwernyfed High School at Three Cocks.
He faced one charge of possession of indecent images of children with a view to distribution and three other charges of possession of indecent images of children.
Online conversations
The images, depicting children aged between three and nine years old, were not pupils at the school where Rees worked, the court heard.
Police found 4,393 indecent images on two computers and an external hard drive.
Of those images, 887 were of the most serious kind.
The court also heard how Rees engaged in online conversations while posing as an 11-year-old girl and communicated with a man in America about abusing young children.
Judge Thomas Crowther QC said: "It is men like you who sneak away furtively to watch this stuff that creates the demand."