Dyfed-Powys Police need to make £10m saving in next five years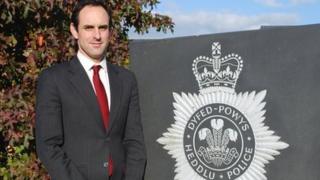 A saving of £10m needs to be made by Dyfed-Powys Police in the next five years, according to the force's police and crime commissioner.
Christopher Salmon told BBC's The Wales Report that the force had already faced cuts of a similar figure over the previous five years.
And Mr Salmon expects to face further cuts estimated at up to £10m from the UK government between 2015-2020.
He said the cuts are achievable and will look at ways to make the savings.
Mr Salmon believes that more could be done to reduce police bureaucracy and to streamline management.
He said: "It's a very bureaucratic institution still, there is a lot we can take out.
"We need to look hard at the management of the police, the rank structures.
"I would like to see more doers, and less talkers in crude terms."
A Home Office spokesperson said: "Police reform is working and crime has fallen by more than a fifth under this government, according to the Independent Crime Survey for England and Wales.
"While we acknowledge that the police funding settlement is challenging there is no question that the police will still have the resources to do their important work."