French Alps skiing death boy was Carwyn Scott-Howell from Brecon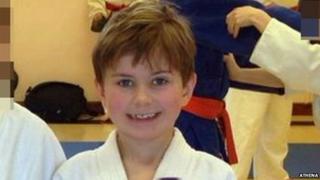 A seven-year-old boy who fell to his death on a skiing holiday in the French Alps has been named locally as Carwyn Scott-Howell from the village of Talybont-on-Usk, near Brecon.
Carwyn was on holiday with his family when police say he fell 160ft (49m) after straying off the piste.
Earlier reports had suggested he may have been skiing alone when he fell.
The Foreign Office said the accident happened in Flaine, 38 miles north west of Chamonix, on Friday.
The family run a small farm and rent out a number of luxury holiday cottages.
Relatives, who were looking after guests and tending the animals while the family was away, were too upset to speak.
Talybont-on-Usk community councillor, Glyn Thomas, said: "This is a very close community and the community will give whatever support the family needs."
Darren Evans, deputy head teacher at Ysgol Y Bannau where Carwyn was a pupil, described him as a "happy and polite little boy" who enjoyed learning and the outdoors.
He said he often talked about his life living on the farm and would bring animals in to the school so his classmates could learn about them.
'Judicial inquiry'
Carwyn was reported missing at 16:30 local time and his body was found at the bottom of a 100-metre cliff at 19:00 local time.
Michel Ollagnon, police commander for the south-eastern town of Bonneville, said the family were making their last descent of the mountain when Carwyn's mother stopped to help his sister who had fallen.
It is thought he wandered off from the rest of the family who then lost sight of him.
Mr Ollagnon said Carwyn "took off his skis and continued on foot. He must have panicked and did not see the cliff" where the boy's skis were found.
His mother later raised the alarm but rescuers only found his skis and his body was later recovered from the bottom of the cliff.
Local authorities in France have opened an investigation into the accident.
The Foreign Office said it was providing consular assistance to the family.