Powys's landmark Lonely Tree could be replaced by council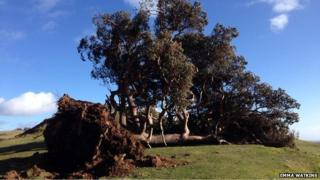 Preliminary plans are being made to replace Powys's Lonely Tree after it was damaged in bad weather.
The Scots Pine has been a landmark on the Llanfyllin landscape for at least 150 years, but was brought down by 100mph winds in February 2014.
Llanfyllin Town Council are discussing purchasing a new tree.
A spokesman said: "We are looking at possibilities for when we will have to buy a new tree, but nothing is set in stone because the tree is still alive."