Five-legged lamb born at Rhiwlas Farm in Powys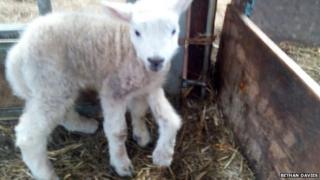 A five-legged lamb has been born at a family-run farm in mid Wales.
The lamb, named Jake, was delivered on Thursday afternoon at Rhiwlas Farm near Lake Vyrnwy, Powys.
Despite having an extra limb, Jake is healthy and thriving, according to farmer Bethan Davies, 49.
"He seems really happy, he's feeding well and bouncing around like a normal lamb. He is doing really well," she said.
Ms Davies added: "We have never had anything like this before, apparently it's really rare."