Suicide cancer patient 'released too soon' inquest told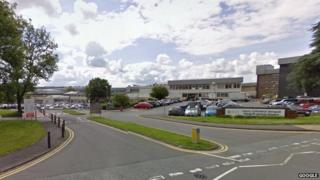 A terminally-ill man whose body was found in a river was released too soon from hospital, his son has said.
The body of Richard Middleton, 83, from Aberystwyth, was found in the River Rheidol on 15 January and Coroner Peter Brunton noted a verdict of suicide.
Keith Middleton said his father was only told his cancer was terminal as he waited for the ambulance to take him home from Glangwili General Hospital.
The local health board said it would see if any lessons could be learned.
The inquest heard that the Carmarthen hospital had released him into the care of his 86-year-old wife in November 2014.
Mr Middleton was weak following treatment for bowel cancer and found it difficult to walk any great distance, the hearing was told.
Could not cope
The coroner said he was satisfied Mr Middleton's death was not accidental.
He said he had shown a great deal of determination and reserve strength to get up in the middle of the night, get dressed, go downstairs and open the heavy garage door, before driving himself two miles across town to the river.
Keith Middleton told the inquest his father had been in hospital 30 days and he felt he had been released without any support.
He said his father had found it difficult to cope after returning home as he was frail and exhausted.
Despite asking for help, he told the inquest, they only received a phone call to make a follow up appointment the day he killed himself.
The coroner said Mr Middleton had left notes for his family saying he could not cope and was seeking a way out.