April Jones' father in charity run in memory of daughter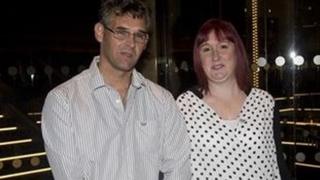 The father of murdered five-year-old April Jones ran 10k in his daughter's memory to help families of missing people.
April disappeared in October 2012, in Machynlleth, Powys. Mark Bridger was convicted of her murder in 2013, but her body has never been found.
Paul Jones, 46, joined the Missing People run in London on Saturday.
Rachel Elias, sister of missing former Manic Street Preachers guitarist Richey Edwards, also took part.
Mr Jones said: "We know first-hand the feeling of absolute despair when someone you love one disappears."