Fat blockage 120m long discovered in Welshpool sewer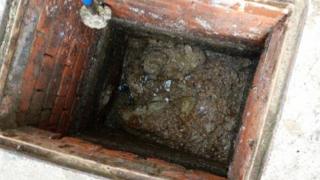 A lump of fat the length of a football pitch has been discovered in a Powys sewer.
Workers spent five hours clearing the 120m (394ft) blockage on Berriew Road in Welshpool.
Severn Trent Water described the town as a "hot spot" for serious blockages and said it has dealt with 143 incidents on Berriew Road, Oldford Rise and Oldford Close since 2011.
The company warned homeowners about pouring fat and grease down the drain.
Severn Trent Water's Jacqueline Whitehead said: "If we hadn't discovered it when we did, it would have eventually led to sewage backing up in the system and coming out where it could into people's homes and gardens.
"As it was, the manholes were already overflowing."