National Library shares 2nd Century Ptolemy map image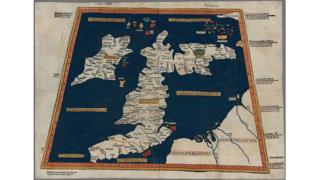 A 2nd Century map of the British Isles has been made available for the public to view online by the National Library of Wales.
The 1486 woodcut map is one of the earliest surviving copies of Ptolemy's map.
It was bought by the Aberystwyth library at an auction in 2008.
An image of the map has been given to People's Collection Wales and Wikimedia Commons.
Ptolemy was a Greek-Roman astronomer and geographer who established the use of longitude and latitude lines.