Father Christmas letter from the 1930s found up Powys chimney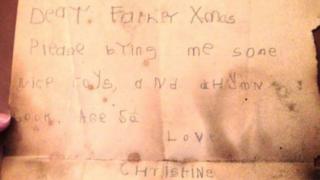 A letter written by a five-year-old girl to Father Christmas in the 1930s has been found up a chimney during renovation work at a house in Powys.
In the note, found at Garthmyl Hall, Berriew, Christine Churchill, now 82, asks for "some nice toys" and a hymn book.
Builders made the discovery in a chimney breast at the property, which is set to open as a wedding venue.
The property's current owner Julia Pugh said she was humbled by the letter.
The letter's author, Ms Churchill, said she was excited to see the letter again and "very touched" that Ms Pugh would want to keep it.
She said: "It was such a long time ago I can barely remember being five, it feels as though it was someone else.
"We didn't really want for much. Back then Christmas was about family and friends, not material items."
Ms Pugh said she was struck by how different children's expectations were today.
"I have a two-year-old and she gets so many presents and stuff that she doesn't need," she said.
"Today, if you don't get an iPhone [for your children] you're an awful person.
"It's just quite humbling."
Event planner Ms Pugh, 28, bought the property with her family in October and had already met Ms Churchill when researching the building.
She said: "When we put an offer in I really wanted to know as much about the history [of the house] as possible.
"I found her [Christine's] number and gave her a ring. I've been to her house a few times and seen pictures of how the hall used to look so when I found the letter I knew it was from her."
Ms Pugh discovered the letters put to one side by workmen and could not wait to tell Ms Churchill about them.
She said: "I was excited to go and show her them. What a cool thing to find."
Ms Pugh said Ms Churchill's humble ways have not changed seven decades on: "She's 82 now and still goes out in the community and helps elderly people."
---
Have you written your letter to Father Christmas? Has your child written one? Or do you have one you've treasured from years ago? Email haveyoursay@bbc.co.uk with your stories and pictures.
Please include a contact number if you are willing to speak to a BBC journalist. You can also contact us in the following ways: