Powys twins claim Wales-England birth world record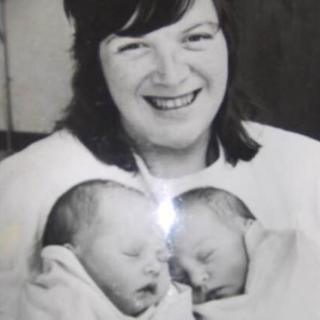 Twins from Powys are set to claim a world record title as the first pair to be born in different countries - nearly 40 years after the event.
Heidi Gannon was born at Welshpool Hospital in 1976, while her sister Jo Baines was delivered across the border in Shrewsbury almost two hours later.
Guinness World Records listed twins born in Scotland and England in 2012 as the first until Ms Gannon got in touch.
After checking, Guinness said the Welsh duo are indeed the record breakers.
Ms Gannon only discovered their claim to the title after buying a book for her son.
She was born at 09:00 GMT on 23 September 1976 in the Powys hospital, but her mother Carol Munroe was unaware she was carrying twins.
Her sister, Ms Baines, was later born at 10:45 20 miles (32km) away across the Welsh border in Shropshire.
Officials confirmed they were waiting for the record to be updated and said they had been in contact with Ms Gannon.
A spokesperson added: "We were made aware of Ms Baines and Ms Gannon's claim for this record last week and after some research involving our twins consultant we have been able to verify that they are indeed the first twins born in different countries."