Sir Tom Jones to appear at Hay Festival following wife's death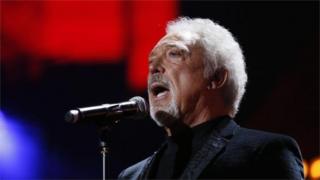 Sir Tom Jones is to appear at this year's Hay Festival - his first public appearance since the death of his wife.
Lady Melinda Rose Woodward - known as Linda - died on 10 April in Los Angeles after suffering from cancer.
Sir Tom will be at the annual literature festival in Hay-on-Wye, Powys, on 5 June to discuss his autobiography Over The Top And Back.
Author Julia Donaldson, TV presenter Chris Packham and actress Olivia Colman are among those appearing at the event.
Sir Tom, who is originally from Treforest, Pontypridd, previously said he would return to the stage as "singing really is my best therapy".
Writing on his Facebook page, he said: "It means a huge amount to be able to continue to perform for such a loyal and giving audience; your support has been uplifting and doesn't go unnoticed."
Sir Tom and his childhood sweetheart met when they were both 12 and were married for 59 years.
They have a son, Mark, who is now Sir Tom's manager.
The singer is due to kick off his UK tour with a performance at Hampton Court Palace on 8 June.