Aberystwyth nursery worker sacked after boy left on bus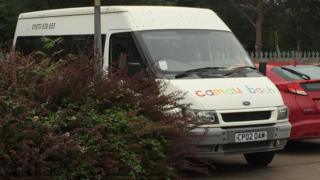 A nursery worker has been dismissed after a young boy was left alone in a minibus on one of the hottest days of the year.
The boy was left in the vehicle outside Camau Bach in Aberystwyth, Ceredigion, for more than two hours on 19 July.
Charity Mudiad Meithrin confirmed the member of staff responsible for the child had been dismissed.
In a separate incident, a man entered the nursery without permission last week.
The charity said all criminal charges had been dropped in relation to the incident on 19 July.
It is believed the boy was meant to spend half the day at the nearby primary school, Ysgol Gymraeg Aberystwyth, and the other half at the nursery.
But he was left unattended after the journey between the two places.
July 19 was, at the time, the hottest day of the year with temperatures in parts of Ceredigion reaching 31.8C (89.2F).
The incident was referred to the Care and Social Services Inspectorate and the council's safeguarding board, and the nursery was closed while an investigation took place, but has since reopened.
On Monday, police confirmed they were called to the nursery last Thursday following reports a man had entered an classroom at the nursery.
There were no children in the room at the time and the man damaged a gate as he left.
He is described as a white male, of slight build, who was wearing green, Army type trousers, a dark coloured hoody with white stripes down the side and he was carrying a rucksack.
Police want to speak to anyone who saw the man walking away from the area.