Conditional discharge for assaulting Hinterland actor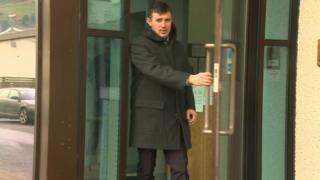 An Aberystwyth man who assaulted a Hinterland actor outside a pub has been given a 12-month conditional discharge.
Steven Welsby, 40, attacked Aneirin Hughes during the incident in the town in July.
Mr Hughes, who plays Ch Supt Brian Prosser in the bilingual drama, sustained injuries to his mouth, ear and eye.
Welsby, who pleading guilty to common assault, was also ordered to pay £50 compensation.
He had originally denied a charge of causing actual bodily harm, but the charge was changed to common assault on Monday.
Two other men, Robert Edwards, 52, and Dewi Edwards, 24, were fined at an earlier hearing after pleading guilty to their part in the assault.
The three men were on a stag do when the assault - over a long-standing dispute about agriculture land - took place, Aberystwyth Magistrates Court heard.