Powys council leader Barry Thomas to stand down in May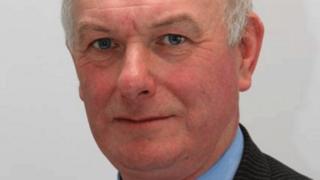 Powys council leader Barry Thomas is to quit the role in May and will not stand for re-election during the forthcoming local elections.
He has held the role since 2014 and has been the ward councillor for Llanfihangel for more than 20 years.
Mr Thomas said he was "taking a complete break from local government".
He said he had enjoyed the roles although it had "not been an easy task" during a period of "unprecedented financial pressures".
Mr Thomas, part of a non-political group of councillors, had assumed the leader's role after the previous incumbent was ousted in a vote of no confidence.