Lack of young transgender help in Wales, 16-year-old says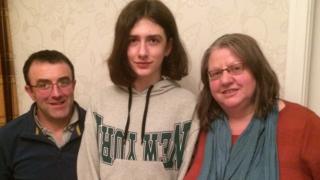 A 16 year-old and her family from Ceredigion have called for more medical care and services to be made available for young transgender people in Wales.
Llyr and her family feel there is a lack of provision in Wales.
She was born male and is having hormone treatment in a process that will lead to full gender affirmation surgery.
"The numbers of young transgender people in Wales are increasing rapidly," said Llyr who is a sixth form student in Aberystwyth.
"I think we're in desperate need of a clinic here in Wales.
"I think that there's a large enough population of transgender people in Wales now that there needs to be a proper support network in place," she told BBC Radio Cymru's Manylu show.
The Welsh Government's transgender action plan published in March 2016 said figures from the Gender Identity Research and Education Society stated "a school of 1,000 pupils should expect around 10 to be gender variant to some degree".
A gender identity care pathway for Wales is currently being developed, a government spokesman said.
'12-hour round trip'
Llyr, who has chosen to keep her birth name, regularly travels to London for treatment as The Tavistock Clinic is the nearest designated gender identity clinic for under 18s.
"When you think about it, it's a bit crazy that we have to make a 12-hour round train journey to London, for a half-hour appointment very often," she said.
She currently has testosterone blockers and will then be prescribed the oestrogen hormone.
Llyr will have to be at least 18 before she is eligible to have gender affirmation surgery, which is also not available in Wales.
"It's a big commitment," she said.
"But when you know finally what's going on with yourself, and you can truly be yourself, nothing else matters, that's all you think about. I couldn't really see a life for myself if I wasn't able to do this."
'More to be done on doorstep'
Her parents, Diane and Huw, regularly accompany her to London and they claim to meet other Welsh families at the Tavistock.
"I think there's a lot that can be done locally," said Diane.
"We're going down to London for things like blood tests and bone scans, when we have a hospital three miles away which is perfectly equipped to do that. There must be an easier way, there is so much stuff that can be done on your doorstep."
A Welsh Government spokesman said: "The Welsh Health Specialised Services Committee (WHSSC), which commissions specialist gender identity services on behalf of Welsh health boards, is currently developing a gender identity care pathway for Wales.
"Funding has also been included in the Welsh Government's final Budget for 2017-18 to improve gender identity services for people in Wales."