Concerns Superfast Cymru 'missing Wales new-builds'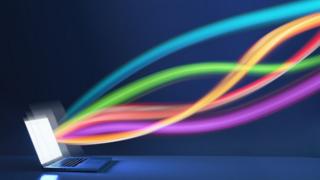 Concerns have been raised new-build properties are missing out on a £425m superfast broadband scheme.
Residents in a 40-home estate in Bronllys, Brecon, claim they have not been connected as their homes were built after the Superfast Cymru contract was signed in 2012.
In October, a £12.9m extension of the scheme was announced.
The Welsh Government said "there is more to do" to reach premises not part of the original project rollout.
The project has so far connected more than 630,000 premises to fast fibre broadband.
An extra 40,000 properties, including new-builds, were added to the contract in 2014, and will be connected by June.
A open market review launched in January will look into connecting any remaining eligible premises, including those built since 2014, with work to start in early 2018.
In November, AMs said the original June 2016 deadline for completion of the contract had been missed, and the scheme had "failed to deliver"..
'No consistency'
Brian Lloyd, from Bronllys, said he would probably not have bought his house if he had known the broadband would be so slow.
"It's crazy. We decided to buy this property in October 2015. It all hinges on this stupid situation about when the houses were built.
"We are being left out. It's absolutely absurd. There is no consistency - and I know the costs are minimal."
Mr Lloyd, a former member of the Carmarthen Community broadband partnership, said he had speeds of up to 30 megabytes (Mbps) in his former rural village home.
"Now we get five," he added. "And I have already had two drop-outs this morning.
"I can't see how this can be an isolated situation."
'Market failure'
A Welsh Government spokeswoman said: "We know there is more to do to reach the final premises, including those not part of the Superfast Cymru rollout, and we are already looking at how to do this.
"Our Access Broadband Cymru scheme can also offer assistance to those currently not able to access superfast broadband by providing grant aid to receive it through other technologies."
The Welsh Government has to demonstrate the market has failed before intervening where premises have poor broadband.
According to thinkbroadband.com, 88% of Wales is covered by speeds of 30 Mbps or more - less than England's 91.9% coverage, but more than Scotland's 86.1% and Northern Ireland's 78.9%.