£1,000 fine for 'run-down' building on Aberystwyth promenade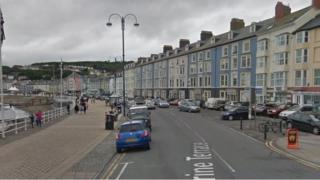 A hotel owner has been fined £1,000 after failing to repair a "dilapidated" former nursing home on Aberystwyth promenade.
Vince Morgans was given six months to fix broken windows and replace missing tiles at the building known as "The Deva" in February 2016.
Ceredigion Council said the building was "adversely affecting the promenade" repaired following storms in 2014.
Morgans pleaded guilty to failing to comply with the council's repair order.
Aberystwyth Magistrates ordered Morgans - who owns the Belle Vue and the Park Lodge hotels in Aberystwyth - to pay a total of £2,260, in fines and costs.
Lee Thompson, representing Morgans, said the plans for the Deva had changed since the repair order was issued by Ceredigion Council in February 2016.
A new planning application will be submitted for the new plans and the building was not unsafe, he said.