Hinterland director calls for Welsh dramas to be bilingual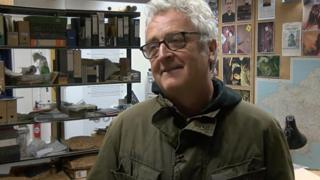 More Welsh dramas should become bilingual, the director of Hinterland has said.
Ed Thomas has encouraged more programmes to use both Welsh and English to reflect life across Wales.
Hinterland will broadcast its third bilingual season on 5 April, after the Welsh-language version Y Gwyll was shown on S4C last year.
He said the use of both languages in Hinterland represented the "Wales that we are familiar with".
The award-winning drama, filmed in Ceredigion, was originally an experiment to test programmes featuring both Welsh and English.
He said: "It's really worked and I think more people will do that this year - which is a good thing."
"There is definitely a place for showing and dramatising the reality of how we speak in Wales," he added.
"We have a fragile identity here in this old country of Wales, so if bilingualism makes that last longer, [it is a] good thing."