Local elections: Green Party gains first seat in Powys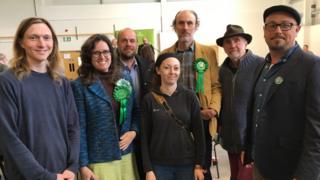 The Green Party has gained its first seat of the local elections in Powys as no party gained overall control.
The party gained its first ever seat on the council, with Emily Durrant elected to represent Llangors.
Meanwhile Plaid Cymru gained two seats on the authority, which now has no overall control after independents failed to keep a majority.
Ceredigion council will remain under no overall control after no party secured a majority of the vote.
Plaid Cymru won 19 seats, independents have 13, the Liberal Democrats have eight and Labour has one.
The election for Llandyfriog ward has been postponed following the death of a candidate.
Former Ceredigion leader Keith Evans, who lost his seat in 2012, won the Llandysul seat. The independent took the seat from Plaid Cymru.
And former leader Jill Hopley, an independent, lost the New Quay seat to another independent.
The county's first result saw the Liberal Democrats re-elected to the Aberaeron seat.
In Powys, Plaid gained its first seat on the council as Bryn Pyryddon Davies took the Llanwddyn ward from an independent.