'Fit in 5' launched to get Ceredigion pupils moving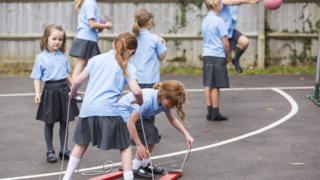 Primary schools in Ceredigion have been asked to give their pupils a five-minute exercise break each day in a bid to improve fitness, mental wellbeing and concentration levels.
The scheme, Fit in 5, was developed at Llwyn yr Eos school in Aberystwyth.
The council said it was inspired by the Daily Mile, which encourages children to run or walk a mile a day.
The exercise is in addition to breaks and physical education and can be taken at any point during the school day.
Alwyn Davies, from Ceredigion Actif, the council's service for sport and leisure provision, said the initiative involved no equipment, set up time, or changing time as children can take part in their uniform.
"We believe this is an effective and sustainable way of implementing a project similar to the Daily Mile but with increased benefits," he added.