Rosemarie Harris first woman leader for Powys council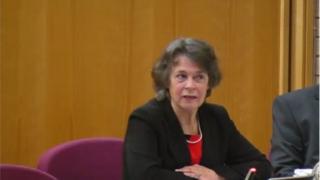 Powys council has elected its first woman leader, following the local elections earlier this month.
Independent Rosemarie Harris was the only nominee for the position after Barry Thomas announced he was standing down.
She said she hoped to put Powys "more on the Welsh stage" but warned of further austerity.
She received 49 votes in favour, one ballot was spoiled and there were 20 abstentions.
"I recognise the challenge that we all face," she told the meeting on Thursday.
"We've had to take a lot of money out of the budget in the last few years and austerity is still with us so there will be more to take.
"There are tremendous opportunities available, all we need to do is grasp them."
Ms Harris, who represents Llangynidr, added she hoped to better promote Powys, particularly on social media.
"We have so much to offer in this county," she said.
Meanwhile, Berriew councillor Dai Davies will succeed retiring chaiman Keith Tampin, who was praised for his hard work and fairness during his time in office.
The council offers the title to councillors from different areas, with Montgomeryshire having been due its "turn" this coming year.