Stranded pony winched up 80ft cliff in Gwbert rescue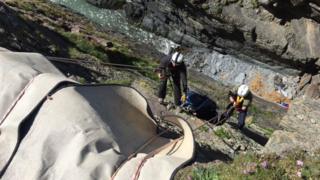 A stranded pony has been winched up an 80ft (24m) cliff edge after becoming stranded on a shingle bed in Ceredigion.
RSPCA Cymru said the animal, believed to have been trapped for a week, was rescued in Gwbert on Thursday.
The pony was reached by boat and sedated before being lifted to safety by a team of 13 officers.
A veterinary inspection found the animal to be fit and well despite being weak from the ordeal.
Animal welfare officer Andrew Harris said: "This pony was in a hopeless situation and was facing certain death.. it was amazing to be involved in such a happy ending."