Aberystwyth cycling facilities to get people on their bikes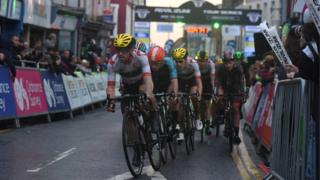 Cycling facilities have been installed in a Ceredigion town to capitalise on an increase in interest in the sport.
Members of Team Wiggins were the first to use the new repair station during the recent cycle festival in Aberystwyth.
In 2016, it also hosted a stage of the Pearl Izumi UK Tour Series which brought 5,000 visitors and £300,000 in.
A repair stand that includes pumps and adjustment tools has been installed along with shelters and racks.
The aim of the facility, near the town's train station, is to make it easier for people to cycle in the town rather than use cars.