CT scan technology used in Aberystwyth Uni wheat study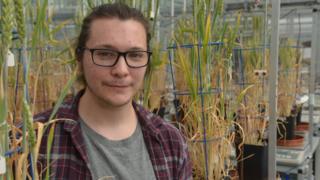 Aberystwyth researchers are using CT hospital scanner technology to study wheat.
The new technique, being developed by undergraduate computer science student Nathan Hughes, could help scientists create new types of wheat which can thrive in a changing climate.
Mr Hughes' technology will help scientists extract information from 3D images of wheat grain heads.
He has now won a bursary to develop the technique over the summer.
Using Raspberry Pi computers, Mr Hughes varied the amount of water given to plants and recorded their weight gain, before studying the heads via the scanning technology - usually used in hospitals - to look at differences in development.
Usually at this stage, individual grains would be studied by hand, but Mr Hughes' technique means 3,000 grains can be analysed in an hour.
The findings were found to be 97% accurate.
Mr Hughes will present his work to the Genetics Society in Edinburgh at the end of August.