Howard Williams' piano donated to Ceredigion museum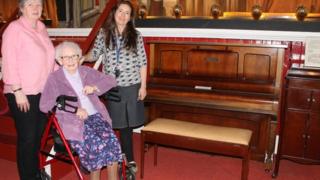 The family of a late musician and teacher has donated his piano to Ceredigion Museum in Aberystwyth.
Howard Williams, who died in 2013, was a technician in Aberystwyth University's geology department and became a piano teacher when he retired.
The piano, which has been in Mr Williams' family for at least 60 years, has been donated by his wife Ethel.
It is played regularly by visitors to the museum and will be used in concerts.
Curator Carrie Canham said: "The piano sounds wonderful in the auditorium."
Mrs Williams said her late husband "would have been delighted to see its pride of place in the Coliseum".