Cardigan cleaner Linda Thomas guilty of £20,000 blackmail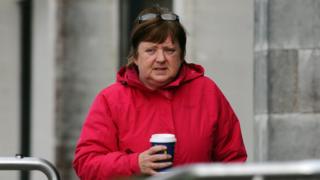 A Ceredigion cleaner has been found guilty of blackmailing an 80-year-old customer out of £20,000 after a retrial.
Linda Thomas from Cardigan gave the man a "cuddle and a kiss" but threatened to tell police he sexually assaulted her if he did not give her money.
Swansea Crown Court heard the man's bank became suspicious of the withdrawals and alerted the police.
Thomas, 62, will be sentenced next month.
She was discharged from her original trial in March this year after the jury failed to return a majority verdict.
Prosecuting, Dyfed Thomas said when Thomas arrived at the man's house "she may have given him a peck on the cheek" and "when she left he gave her a hug and a kiss".
She accused him of "touching her breasts" and made demands for money.
The court heard the man took £10,000 out of his bank in October 2015, before returning for another £10,000.
He said the bank "begged him not to pay her".
After her arrest, Thomas accused him of being a "dirty old man" who made up the allegations as he was "madly in love" with her.