Powys rail crossing safety closures update for residents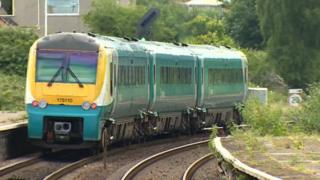 Passengers and residents in mid Wales are being updated on works to improve rail crossing safety.
Network Rail and Powys council are closing five manned level crossings and three footpaths over the Cambrian Line.
They are being replaced by two new roads on rail bridges near Talerddig.
In 2012, van driver Daniel Bellis from Oswestry suffered chest and back injuries after his vehicle was hit by a train at one of the five crossings - Pikins Crossing - in February 2012.
He was jailed for five months in June 2012 after admitting endangering the safety of people on the Shrewsbury to Machynlleth line by failing to call ahead to check if it was clear.
A drop-in session for the works will take place at Carno Community between 16:00 BST and 18:00.
In the last two years 275 incidents were recorded at level crossings on the Wales and borders route, including five collisions and 27 near misses.