Welshpool air show cancelled 'due to poor weather'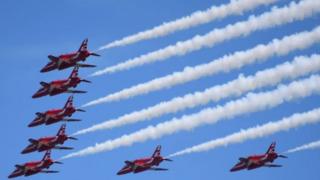 An annual Powys air show will not go ahead next year following two consecutive years of poor weather.
The Bob Jones Memorial Air Show and Transport Festival, held at Mid Wales Airport in Welshpool for the past 10 years, has been cancelled for 2018.
Airport owner Linda Jones said this year's "nasty showers" and rain in 2016 had seen visitor numbers dwindle from 10,000 to 2,000.
"You have your fixed costs but not the people paying at the gate," she said.
She said the festival's committee of volunteers had unanimously voted to cancel next year's event but in the spring they would reassess whether it could be held in the future.
"British weather is unpredictable. It's sad but it's reality," she said.
"We hope we can do it again in the future."