Aberystwyth 'possible missing swimmer' search ends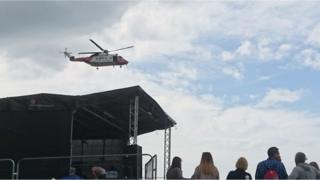 Lifeboat crews have been stood down after a three-hour search following reports of a "possible missing swimmer" off Aberystwyth in Ceredigion.
Lifeboats and a search helicopter were deployed, according to a tweet by Aberystwyth Lifeboat team at about 16:10 BST on Saturday.
They tweeted at about 17:50 to say there was "nothing found" after an "intensive" three-hour search.
Lifeboat crews have now returned to their stations.
A UK Coastguard spokesman said: "I can confirm a search unfolded this afternoon in the area between Aberystwyth North Beach and Constitution Hill after reports of a possible missing swimmer.
"The area was saturated with both Aberystwyth lifeboats, the all-weather lifeboat from New Quay and the helicopter from Caernarfon and two lifeboat teams from Borth in attendance - and nothing has been located. The search has been terminated."