James Corfield: Memorial held after body found in river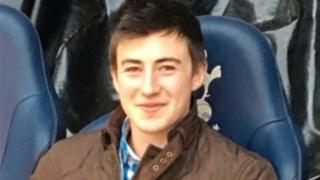 A memorial service has been held for a man who was found dead after going missing while attending the Royal Welsh Show.
Nineteen-year-old James Corfield's body was recovered from the River Wye in Builth Wells on Sunday.
He had not been seen since he left the White Horse pub in the town in the early hours of last Tuesday morning.
The show's organisers said they would be coordinating a review to improve safety for young people.
Mr Corfield, a member of Montgomery Young Farmers' Club, was due to meet his family at the Royal Welsh showground where he had been camping with friends but failed to show up.
On Tuesday, around 200 people gathered in the town to listen to prayers and poems in memory of Mr Corfield.
Many of them wore blue - the colour Mr Corfield was wearing when he disappeared - and there was a round of applause in his honour.
The Royal Welsh Agricultural Society, which organises the show, said it would now join forces with police, councils and other agencies to "establish any lessons that can be learned and improvements for future events".
Chairman John Davies said: "To lose one life is one too many and it is only right therefore that we have an obligation to look after the wellbeing of all that attend the Royal Welsh Show, but especially our young people, who come in tens of thousands, year on year."