Aberystwyth Welsh school restaurant quarter plans delayed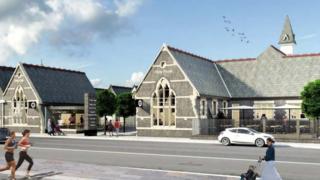 Plans to turn a Grade II-listed former Welsh school in Ceredigion into restaurants and cafes have been delayed.
In 2016, planning permission was granted to turn Yr Hen Ysgol Gymraeg, Aberystwyth, into a cafe quarter.
It was due to open by mid-2017, but developers say this has been stalled by about a year.
Project manager Will Lloyd Davies said the delay had been caused by one of the building's tenants failing to vacate.
Two restaurants are signed up to the scheme - Pizza Express and Loungers - and it had been hoped more could be secured.
Mr Lloyd Davies said the business should have left a year ago, but has now agreed to vacate by the end of October.
About nine months of construction work will follow, meaning the development should open in summer 2018.
Mr Lloyd Davies said no more businesses had been signed up, but the plan was to press ahead with construction with Pizza Express and Loungers.
Ceredigion council said the opening date was a matter for the developer.
Yr Hen Ysgol Gymraeg was built in 1874 and subsequently housed Wales' first Welsh language school, established in 1939 by Ifan ab Owen Edwards, with just seven children on the register.
It closed in 1989 when it was replaced by a new school at Plascrug Avenue.