Grade II-listed status for Aberystwyth University building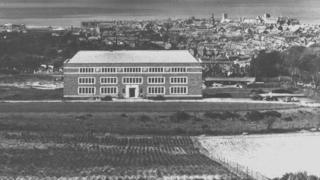 The earliest building to have been built on Aberystwyth University's current campus has been given Grade-II listed status.
Cledwyn Building, named after the late Welsh Labour politician Cledwyn Hughes, opened in 1937 at the Penglais campus.
It originally housed the Welsh Plant Breeding Station and the Department of Agricultural Economics.
It is hoped the listed status will help protect the Georgian modern style building for the future.
It was designed by Sir Percy Thomas, one of Wales' leading architects of the 20th Century.
The university had previously occupied the Grade I-listed Old College on the seafront, but acquired 36 hectares of the Penglais site in 1929, planning to concentrate future developments there.
Andrew Thomas, historical buildings improvement manager at Aberystwyth University, said: "This reflects the building's architectural and historical interest."