Cardigan carer who thumped 92-year-old facing jail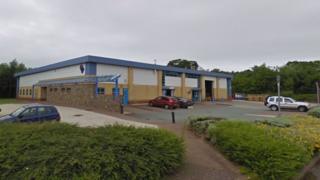 A carer thumped and slapped a 92-year-old she was supposed to be looking after, a court was told.
Tamara Springett, 60, also told the woman, who has dementia, she hoped she would fall over and break her leg.
Springett, of Cardigan, Ceredigion, was found guilty of a new offence of ill treatment by a carer following a trial at Swansea Crown Court.
She was warned she would be given a prison sentence - which may be suspended or activated immediately.
Springett denied the assaults but agreed she may have pushed the patient away in self defence.
She will be sentenced on 15 September and the court heard she no longer worked as a carer.
'Absolutely disgusted'
The jury heard from carers employed by the same firm, Cardigan-based Corban Care, who said the patient could be difficult and sometimes spat at carers, hitting them and pulling their hair.
Samantha Green said the woman "lashed out" at Springett, who responded by thumping her in the ribs and swearing at her.
"It came as a complete shock. I was absolutely disgusted," Miss Green said.
Stephen Rees, prosecuting, said the carers were required to show restraint and to behave professionally regardless of how challenging the patient could be.
Judge Geraint Walters asked for enquiries to be made after carers told the jury they had not complained about Springett's behaviour "because nothing would have been done".
Judge Walters said if true, this was very concerning.
"There is no room at all for abusing someone in that situation. That must be made clear to those who are carers," he said.
"There is no room for a slacking of standards."