Aberystwyth Uni scientists create elephant grass house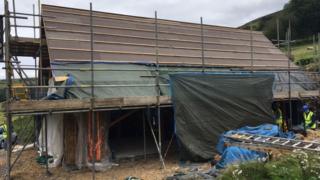 A straw-like crop could significantly reduce the construction industry's impact on the environment, Aberystwyth University scientists believe.
They are helping to build a house using miscanthus - or elephant grass bales - near Machynlleth, Powys.
In a typical house, 50 tonnes of carbon dioxide can be emitted through heating, contributing to global warming.
But the scientists said miscanthus can "lock in" the carbon, reducing the amount released into the atmosphere.
Bee Rowan, of the Machynlleth-based Centre for Alternative Technology, said this was down to the crop's "excellent insulation value".
This is in contrast to materials used in conventional houses that often emit high levels of CO2 from heating and cooling.
"The most ground-breaking thing about miscanthus is that it could decarbonise the construction industry at scale," she added.
Her team is working with plant breeding scientists from the university to develop seed-based miscanthus hybrids that could create "an excellent building bale" for different sized construction projects.
The university's Dr Judith Thornton said plants had been used for building for thousands of years, however, scientists were now more aware of their physical and chemical properties and have more processing techniques available.
"This opens up a lot of opportunities," she said.
"Whilst building directly with bales is ideal for self-build housing, in the future we could also be using pre-fabricated panels of miscanthus to build houses, and we could produce loft insulation or fibreboards."