Ex-teacher Gordon Fleming jailed for child sex offences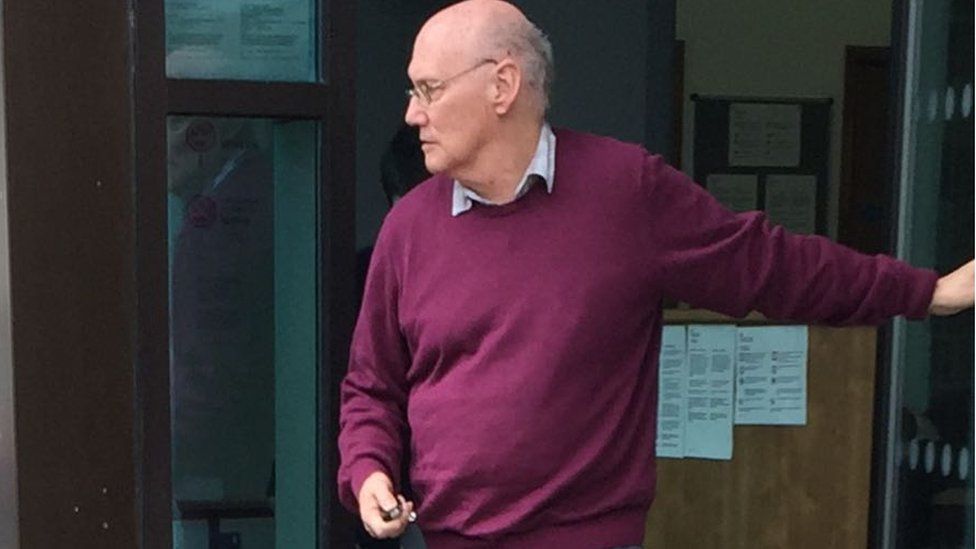 A former primary school head teacher who sexually abused 35 girls under the age of 13 has been jailed for 10 years.
Gordon Fleming, 66, from Oswestry in Shropshire, touched the school pupils indecently in his classroom in a Powys school during the 1970s and 80s.
Swansea Crown Court judge Geraint Walters told Fleming he had "caused severe psychological harm to his victims".
In 1992, he was jailed for four years after admitting nine counts of indecent assault against girls in one of the three schools in which he taught.
The court heard Fleming abused girls aged between seven and 11 after calling them to his desk to discuss their work or while giving guitar lessons.
Judge Walters told Fleming he deprived his victims "of their childhood innocence".
"It is no exaggeration your conducts at the time forever blighted their lives," he said.
Judge Walters added in his 35 years at the bar, he had never seen a case of this nature which involved so many victims.
Prosecutor Robin Rouch said Fleming was a "very stern teacher" and had a temper which intimidated pupils, but parents respected him and "he had a good reputation in the community".
In one of the 34 victim impact statements, one woman said she felt "daily fear, shame, disgust and humiliation" and was in "constant fear of being touched by Fleming".
Another said Fleming's actions had "taken away their innocence, childhood and life".
One victim, who now has children of their own, spoke about how they were "naturally overprotective of them" and they find it difficult to trust men in authority.
A woman who was abused by Fleming when she was 10 said it affected her relationships with her family and she suffered repeated nightmares and flashbacks.
She said: "I am relieved that Fleming pleaded guilty and spared me and other survivors the pain and distress of a protracted court case.
"While it cannot change the past, I am glad we have now seen justice done and hope that it will go some way to giving us the peace to move on with our lives."
Nicola Powell of the Crown Prosecution Service said Fleming "hid behind his reputation as a well-respected teacher for decades" and "used his authority to fulfil his own sexual gratification".
Dyfed-Powys Police Chf Insp Steve Davies said the sentence recognised "the control and long-lasting harm caused to victims by an individual who betrayed his position of trust to sexually abuse children".