Leatherback turtle washed up on beach in Ceredigion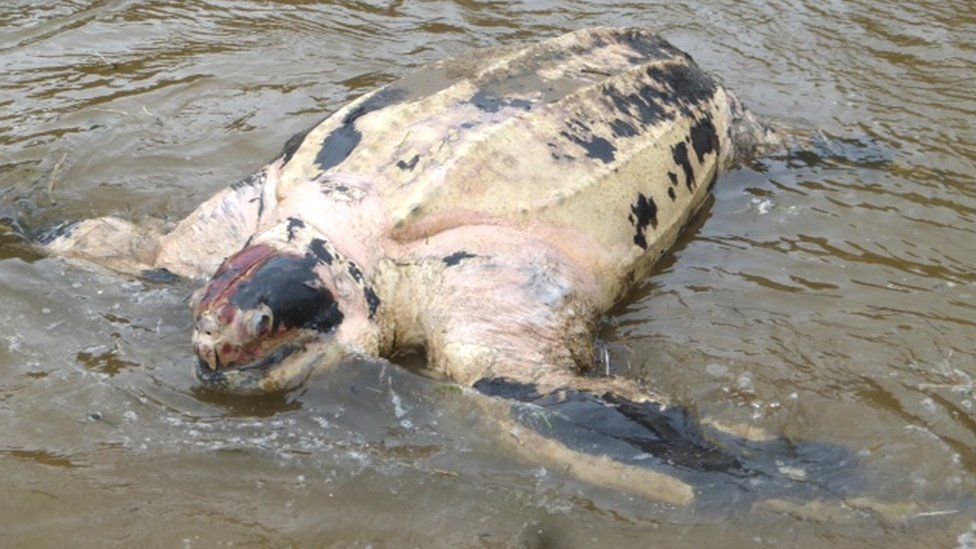 A large leatherback turtle has been found dead on a beach in Ceredigion.
The 1.8m (6ft) long female was discovered at Mwnt, near Cardigan, on Saturday, following a stormy night.
Rod Penrose, strandings co-ordinator for Wales, said: "They come up from French Guiana in South America to feed on jellyfish in British waters."
He said it was an unusual sight for Ceredigion, as the turtles are more commonly seen off south Pembrokeshire or the Llyn peninsula in Gwynedd.
Mr Penrose, of Cardigan-based Marine Environmental Monitoring (MEM), said about 10 leatherback turtles had been washed ashore on UK beaches in the last two months, most of them dead.
"This turtle would have been dead for a couple of weeks," he said.
"It's not unusual to see them - this is the end of their feeding period and they are getting caught out by the cold conditions."
Mr Penrose urged people not to touch any turtles which washed ashore - even if dead - warning that they may be carrying diseases.
He said he was concerned that someone had removed the creature's head by the time he returned to the scene on Sunday to make further checks.
Anyone who finds stranded or dead creatures on beaches in Wales is asked to contact the UK Cetacean Strandings Investigation Programme (CSIP) at www.ukstrandings.org.
Related Internet Links
The BBC is not responsible for the content of external sites.