Therapist 'sexually assaulted' patients at his home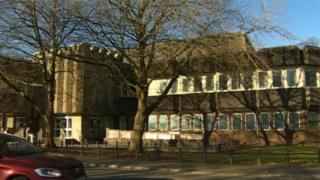 A homeopathic therapist from Powys sexually assaulted two women patients while giving massages, a court has heard.
Brian Williams, 69, touched the women's breasts and offered to massage their ovaries at his home surgery in Glasbury-on-Wye, near Brecon.
Merthyr Tydfil Crown Court heard he diagnosed a hormone imbalance by dangling a crystal on a thread.
He denies four charges of sexual assault.
Prosecutor Carina Hughes said: "The woman went to see him because she was lethargic, her hair was thinning and she had trouble sleeping.
"Williams asked her if he could massage her ovaries. He then asked her to lay face down and undid her bra strap.
"He massaged her shoulders before moving down her body and along the contours of her breasts."
She then "froze" as he carried out the massaging motion three times.
The woman, who can't be named for legal reasons, said: "He was quite rough with no technique at all. He may as well have been washing his car."
Williams allegedly offered to massage the ovaries of a second woman patient who went to see him with eczema and low energy levels in 2016.
Miss Hughes said: "He obtained sexual gratification by preying on two vulnerable women, sexually assaulting them in his work as a homeopathic doctor."
The trial continues.